Loos Family Winery
2010 Loos Family Pinot Noir - Bohemian Vineyard
(Russian River Valley)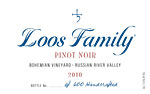 A powerful statement of Russian River terroir in its solid structure and frank black cherry aromas, this wine offers so much more. Much as we loved the 2008, here we have even more violets, together with a brambly wildness and a complexing note of sorrel, which together with its light edge of acidity which brightens and intensifies the palate, doubtless are artifacts of the chilly vintage. The tannins are supple but firm, inviting further cellaring, while its dense aromatics are revisited in a long finish which has a minerally energy and a kiss of Christmas spice.