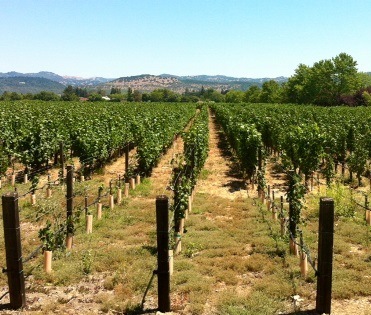 Rutherford ~ Napa Valley (AVA)
A Day in the (Rutherford) Dust
While the early days of Napa Valley always mentioned the dust in summer, Rutherford Dust referred to an entirely different context. During a recent tasting in Napa Valley held by the Rutherford Dust Society a wide wide range of Rutherford wines shed new light on the long term meaning.
by Barbara Trigg
August 2, 2013
---
<!>
Rutherford AVA in the northern half of Napa Valley contains only 47 wineries but they are among the most storied and renowned in this acclaimed wine growing region. In the late 1800s over 2 million vines were under cultivation in Rutherford. Inglenook Winery and Beaulieu Vineyards were creating world class wines into the early 20th C. but the triple disasters of Phylloxera, Prohibition, and World War 2 all but halted winemaking for the first half of the 20th C. Today the region has recaptured and built upon its former glory. Some of the most prominent Napa wineries, winemakers, and vineyards are located in Rutherford AVA, and today Inglenook Winery and BV are again thriving.




In July The Rutherford Dust Society invited the press and trade to taste the 2010 Cabernet Sauvignon and 2012 Rutherford whites produced by its member wineries in the barrel room at Beaulieu Vineyards. The mission of the society is "to encourage and promote the highest quality standards in grape growing and winemaking in the Rutherford Viticultural Area". At least 37 wineries participated and I went to "find the dust".
Wines in this growing region are often referred to as having "dusty" tannins or a dry cocoa feeling on the back palate but to others the term "Rutherford Dust" refers to the terroir of the growing region.
The Rutherford AVA stretches from the benchland under Mt. St. John on the west of Hwy 29, two miles across the valley floor to its eastern reaches on the Vaca Mountains bordering the Silverado trail. Soils range from gravelly to sandy to loamy, and are well drained. While the area is a mishmash of soils, they are generally gravelly on the western bench, sandy nearest the Napa River, and contain some volcanic features on the eastern side. A look to the west reveals firs and redwoods while the eastern side reveals scrub oak and low dry vegetation. Rainfall is higher in the west and the eastern side receives the hotter afternoon sun. While there are differences in the AVA, all the aspects of terroir conspire to provide ideal conditions for grape growing. Let's also consider the skill of the growers and winemakers in producing these beautiful wines.
I tasted as many wines as possible in the two hours allotted but sadly had to miss a few. The descriptor I used most for these wines was "elegant", a term I use to describe balance in the wine. Rich, dark fruit, cocoa, herbal notes, and fine dry tannins were frequent enough that I consider them to be descriptive of Rutherford wines as a group. But these wines are young individuals and are likely to evolve further if allowed to age for at least a few years. 2010 was a cooler than average year with a heat spike in August. Harvest was in October so the grapes had plenty of time to develop and these tend to be concentrated wines with some minerality and depth.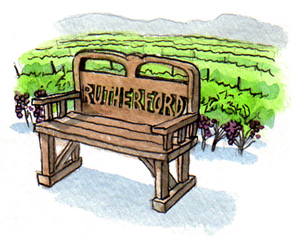 There are those who feel the most distinctive wines come from the "Rutherford Bench" on the western edge of the appellation, while others feel the valley floor best represents the character of the wines. I decided to go through my notes to see if those that pleased me most were from a particular area.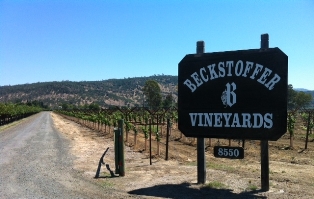 I found my most highly rated wines were from the Georges III Vineyard, which is a Beckstoffer owned vineyard on the valley floor east of the Napa River. Three wines really stood out for me:
Sojourn Cellars
2010 Cabernet Sauvignon Beckstoffer Vineyard Georges III Rutherford,
12C Wines
2011 Cabernet Sauvignon Beckstoffer Georges II, and
Hunnicutt
2010 Cabernet Sauvignon Rutherford. These wines exhibited herb garden aromas and dark fruit coated with cocoa tastes. I also rated the
Pina Napa Valley
2010 Firehouse Vineyard Rutherford Cabernet Sauvignon highly for its minerality, delicate yet muscled structure, dark fruit and flowery aromatics. The organically grown
Heitz Cellars
2007 Trailside Vineyard Cabernet Sauvignon proved that a few years in bottle bring out the best of these wines. This wine murmured elegance and power at the same time.
Next to the Napa River is
Honig Vineyard and Winery
. Their 2010 Cabernet Sauvignon Rutherford is balanced with great acidity, ripe dark fruit, and pucker up tannins. It tastes great for drinking right now if you decant. To the north along the Napa River is
Frog's Leap
. Their elegant 2010 Rutherford Cabernet Sauvignon boasts an alcohol of 13.8% and is destined to age gracefully.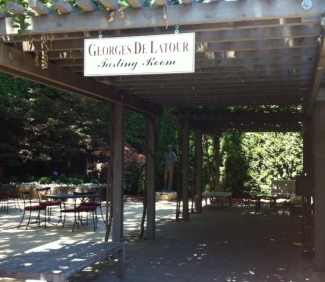 But over on the west side,
Beaulieu Vineyard
2009 Georges de Latour Cabernet Sauvignon expressed spicy and earthy characteristics within a rich dark fruit base. This is a beautiful and complex wine. Not to be missed from this western edge of Rutherford is
Hewitt Vineyard
2009 Estate Grown Cabernet Sauvignon Rutherford,
Staglin Family Vineyards
2009 Cabernet Sauvignon Rutherford, and
Monticello Vineyards
2010 Tietjen Vineyard Cabernet Sauvignon.
In fact, all of the wines tasted were beautiful and elegant. In my opinion, if Rutherford is on the bottle it will likely be a note-worthy wine.
But we also tasted some white wines. This is Sauvignon Blanc territory. Frog's Leap 2012 Sauvignon Blanc Rutherford is very Sancerre-like.
Long Meadow Ranch
2012 Sauvignon Blanc Rutherford is a lighter style with amazing aromas and a delicate 12.9% alcohol level.
Round Pond
2012 Sauvignon Blanc Rutherford is a very pure non-grassy style.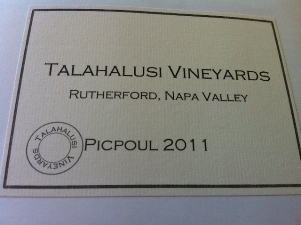 There were some surprises here too.
Talahalusi Vineyards
produces 50 cases of a tart, tangy, aromatic 2011 Picpoul Rutherford and a delicate and flowery 2011 Roussanne Rutherford.
El Molino
2011 Chardonnay was rich and full bodied yet delicate and minerally.
Tres Sabores Winery
showcased their 2012 "Ingrid and Julia" Rose Rutherford, a crisp and delightful rose blend of Zinfandel and Petite Sirah.
On your next trip to the Napa Valley, I suggest you spend a day enjoying the wines of Rutherford. The small hamlet boasts two popular lunch spots…The famed Rutherford Grill and the delightful Alex Restaurant. Over on the eastern side, the Auberge du Soleil offers beautiful food and a beautiful view over the valley. Spend a day!